Forum Tanzlabor I 
Impuls-Workshop mit Tomas Bünger
Das Forum Tanzlabor ist eine 'Insel' im Festival. Hier haben professionelle Tanzschaffende einen Nachmittag Zeit, gemeinsam zu arbeiten, sich auszutauschen, miteinander zu tanzen und zu diskutieren, eigene Ideen zu präsentieren, Gemeinsamkeiten zu erforschen und neue Themen zu entwickeln.
Der erste Impuls kommt von Tomas Bünger im Workshop "Der sprechende Körper", Körper als Mittler inkorporierter Biografie. Der Tanz als Körperausdruck changiert zwischen dem Versuch, sich in einer gelernten Bewegung wiederzufinden und der Möglichkeit einen ganz eigenen Körperausdruck zu finden. Der Schritt in die choreografische Arbeit bedeutet, ein System zu finden, die Körper im Raum in einen Dialog treten zu lassen und sie als Teil eines gesellschaftlichen Diskurses zu betrachten.
Der Übergang zum zweiten Teil des Tanzlabors ist zeitlich und thematisch offen.
Mit Tomas Bünger, Bremen
Sa 10.6. | 10:30 Uhr | offen für professionelle Tanzschaffende | Teilnahme kostenlos, Anmeldung erforderlich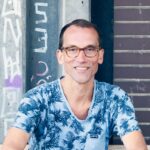 Tomas Bünger
… hat klassischen und modernen Bühnentanz studiert und war langjähriges Mitglied des Tanztheater Bremen. Anschließend machte er eine integrative Tanzlehrerfortbildung in New York und war Gast-Dozent an der Universität der Künste in Buenos Aires. Er unterrichtet und choreografiert regelmäßig mit Unterstützung des Goethe-Instituts in Bangladesch und war Resident in Togo und Rumänien. Er ist Lehrbeauftragter an der HKS Ottersberg, Gast-Trainingsleiter bei der Company "unusual symptoms" am Theater Bremen und Choreograf bei tanzbar_bremen. Er ist außerdem Jury-Mitglied des Tanztreffen der Jugend bei den Berliner Festspielen und Yoga-Lehrer.
Forum Tanzlabor I 
Impulse-Workshop with Tomas Bünger 
We have created the Forum Tanzlabor as an 'island' for creativity in the festival. Here, professional dancers have an afternoon to work together, exchange ideas, dance and discuss, present their own ideas, explore common ground and develop new topics. 
The first impulse comes from Tomas Bünger. "The Speaking Body", the body as a mediator of incorporated biography. The dance as a physical expression alternates between the attempt to find oneself in a learned movement and the possibility of finding one's own physical expression. The step into choreographic work means finding a system that allows the bodies to enter into a dialogue in space and to regard them as part of a social discourse. 
 
The transition to the second part of the dance laboratory is open in terms of time and topic. 
With Tomas Bünger, Bremen  
Sa 10.6. | 10:30 h | open to professional dancers | participation free of charge, registration required
Tomas Bünger
… studied classical and modern dance and was,  for the majority of his career, a member of the Tanztheater Bremen. He then did an integrative dance teacher training in New York and worked as a guest lecturer at the University of the Arts in Buenos Aires. He regularly teaches and choreographs with the support of the Goethe Institute in Bangladesh and has been a resident in Togo and Romania. He is a lecturer at the HKS Ottersberg, teaches at the company "unusual symptoms" at the Theater Bremen and is a choreographer at tanzbar_bremen. Additionally he is  a member of the jury for the Tanztreffen der Jugend at the Berliner Festspiele and a yoga instructor.