Ich stehe auf der Bühne
URAUFFÜHRUNG
Ausgehend von einem Text der ägyptischen Choreografin und Schriftstellerin Nora Amin schafft der Tänzer und Choreograf Tomas Bünger in seinem Solo einen Reflexionsraum für sich und das Publikum, um über das "Sich zeigen" und "Angeschaut werden" nachzudenken.  Gemeinsam lauschen sie einem Text, der als Auslöser für eine choreografische Recherche über inkorporierte Erinnerungen dienen wird. 
Wer bin ich, wenn ich tanze? 
Tanz & Choreographie: Tomas Bünger, Bremen
Fr 9.6. | Teil der Abendveranstaltung 19:30-21:30 Uhr | Dauer ca. 10 min.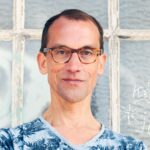 Tomas Bünger
… ist tänzerisch geprägt  von der Arbeit mit Susanne Linke und den unterschiedlichsten Gastchreograf:innen beim Tanztheater Bremen. Aber auch sein Beginn bei der Tanz Compagnie Lübeck und die künstlerische Forschung der letzten Jahre, die ihn bis nach Bangladesh führten,  sind prägend für seine künstlerisches Werk. Choreografisch ist er dabei immer auf der Suche nach einer offenen Tanzsprache, die das Mensch-Sein in den Mittelpunkt stellt. 
Ich stehe auf der Bühne
PREMIERE
Based on a text by the Egyptian choreographer and writer Nora Amin, the dancer and choreographer Tomas Bünger creates a space for reflection in his solo for himself and the audience to reflect about "showing oneself" and "being looked at". Together they listen to a text that will serve as a trigger for a choreographic research on incorporated memories. 
Who am I when I dance? 
Choreography & Dance: Tomas Bünger, Bremen 
Fr 9.6. | part of the evening event 19:30-21:30 Uhr | 10 min. 
Tomas Bünger
… is artistically shaped by the work with Susanne Linke and the numerous diverse guest chreographers at the Tanztheater Bremen. But also his start at the Tanz Compagnie Lübeck and the artistic research over the last few years, which led him to Bangladesh, are formative for his artistic work. Choreographically he is always looking for an open dance language that focuses on being human.