Foreign Body
Körper, die nicht in die gesellschaftliche Norm passen, werden als Fremdkörper behandelt und letzten Endes abgelehnt. Aber können lediglich ausgegrenzte und entfremdete Körper als Fremdkörper bezeichnet werden?  
Die Choreographin Howool Baek setzt sich in ihrer Kurzfilmproduktion "Foreign Body" digital mit dem Fremdsein in unserer Gesellschaft auseinander. An alltäglichen Orten der Berliner Metropole treffen wir auf Klone, die Ausgrenzung, Macht und Vorurteile verhandeln. Die 10 Episoden portraitieren einfühlsam merkwürdige Begegnungen und vertraute Gruppendynamiken, die in unserer zunehmend entfremdeten Gesellschaft, in der wir heutzutage leben, zum Nachdenken anregen. Jeder kann ein Fremdkörper sein – egal wo. 
Regie & Choreographie: Howool Baek | Tanz: Nicole Michalla, Lorenzo Savino, Shoko Seki
VFX, Editing & Kamera: Marc Poritz | Komposition & Tondesign: Matthias Erian
Fr 9.6. | Teil der Veranstaltung 19:30-21:30 Uhr | Dauer ca. 20 min.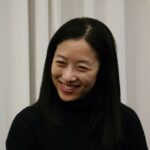 Howool Baek
… hat als Choreographin ihre eigene Körpersprache auf Basis vom Bewegungsmuster etabliert, das auf die einzigartigen gesichtslosen Körperausdrücke durch die subtilen Bewegungen jedes Körperteils beruht. Weitergehend davon eröffnet sie eine andersartige Perspektive auf Körper anhand der Dekonstruktion sowie Transformation des Körpers. Durch das Zerbrechen der Klischeevorstellungen vom Körper ermöglicht sie den Zuschauer:innen, eine völlig neue Körpererfahrung zu sammeln und dabei eine andere Perspektive auf unsere heutige Gesellschaft zu erhalten. In letzter Zeit hat sie ihr Bühnenkonzept zum digitalen Raum hin erweitert und dabei neue künstlerische Experimente durchgeführt, ihre choreographische Methode auf die digitalen Bühne zu verpflanzen. 
Foreign Body
Bodies that do not fit within the framework of society are treated as foreign bodies and areultimately rejected. But can only bodies excluded and alienated as foreign bodies be calledforeign bodies?
In her short film production "Foreign Body", the choreographer Howool Baek digitally dealswith foreignness in our society. In everyday places in the Berlin metropolis, the clonesnegotiate exclusion, power and prejudice. The 10 episodes sensitively tell of strangeencounters and familiar group dynamics that are thought-provoking in the increasinglyalienated society in which we live. Anyone could be a foreign body – anywhere.
Direction & Choreography: Howool Baek | Dance: Nicole Michalla, Lorenzo Savino, Shoko Seki
VFX, Editing & Camera: Marc Poritz | Composition & Sound Design: Matthias Erian
Fr 9.6. | part of the event 19:30-21:30 h | ca. 20 min.
Howool Baek
… has established her own choreographic language by discovering faceless body expression through body fragments. And she proposes a different perspective on the body through the deconstruction and transformation of the body. By breaking stereotypes about the body, she wants the audience to have a new experience with the body and to look at society from a different perspective. Recently, she expanded the concept of the stage to the digital space and is experimenting with her own choreography method on the digital stage. 
Supported by the NATIONAL PERFORMANCE NETWORK – STEPPINGOUT
Funded by the Federal Government Commissioner for Culture and Media within the framework ofthe initiative NEUSTART KULTUR. Assistance Program for Dance.