»Der Körper als vermittelndes Element, die Verbindung zwischen Erde und Himmel.« (Toula Limnaios)
Der Workshop basiert auf der vielfältigen Bewegungssprache der Choreografin Toula Limnaios, die sie als Tänzerin erfahren und in den letzten Jahren zu einer sehr persönlichen, originellen und authentischen Bewegungssprache weiterentwickelt hat. 
Die Körperarbeit sowie Floorwork und zeitgenössische Bewegungssprache basieren auf der Release- und Alexandertechnik – mit dem Fokus auf Entspannung und der Koordinierung zwischen Atem und Bewegungsdynamik. Der Impuls zur Bewegung kommt aus dem Zentrum, der Quelle, aus der alle Energien fließen.
Durch den bewussten Einsatz von muskulärer Entspannung kann sich der Körper ohne Anstrengung aufrichten und innere Energien freisetzen, fließen und strömen, so dass eine Bewegungsökonomie entsteht, die den Ausdruck des Ausübenden stärkt, die Qualität/Dynamik der Bewegungen fokussiert und die innere Musikalität intensiviert. Im Mittelpunkt steht die zeitgenössische Tanzsprache, Tanz als Ausdruck, als nonverbale Kommunikation und Reflexion unserer Epoche, der Zeit, in der wir leben, im Jetzt und Hier…
Offen für alle Altersstufen und Levels | Mit Karolina Wyrwal (cie. toula limnaios), Berlin
Fr 9.6. | 16:00-17:15 Uhr | Ort: Schuppen 6 (An der Untertrave 47a)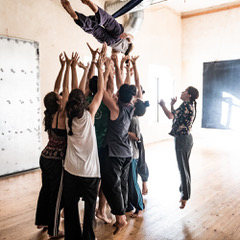 Karolina Wyrwal
… ist Absolventin der Northern School of Contem­porary Dance (UK). Nach der Zusammenarbeit mit Compagnien wie dem Berliner Theater Thikwa und Tanztheater Globale war sie vier Jahre am Polnischen Tanztheater. Karolina arbeitete mit Choreographen wie Ohad Naharin, Jacek Przybylowicz, Yossi Berg, Yoshifumi Inao. Außerdem kreierte sie auch drei Stücke für das polnische Tanz-Theater-Atelier und ist Dozentin für Cunningham-Technik. Seit 2012 ist sie Mitglied der cie. toula limnaios.
»The body as a mediating element, the connection between earth and sky.« (Toula Limnaios)
The workshop is based on the diverse movement language of the choreographer Toula Limnaios, which she experienced as a dancer and has developed into a very personal, original and authentic movement language in recent years.
The body work as well as floor work and contemporary movement language are based on the release and Alexander technique – with a focus on relaxation and the coordination between breath and movement dynamics. The impulse to move comes from the center, the source from which all energy flows.
Through the conscious use of muscular relaxation, the body can straighten without effort and release inner energies. It can flow so that an economy of movement is created that strengthens the expression of the practitioner, focuses the quality/dynamics of the movements and intensifies inner musicality. The focus will be on contemporary dance language, dance as expression, as non-verbal communication and reflection of our era, the time in which we live, in the here and now…
Open to any level and age | With Karolina Wyrwal (cie. toula limnaios), Berlin
Fr 9.6. | 16:00-17:15 h | Place: Schuppen 6  (An der Untertrave 47a)
Karolina Wyrwal
… is a graduate of the Northern School of Contemporary Dance (UK). After working with companies such as the Berlin Theater Thikwa and Tanztheater Globale, she spent four years at the Polish Dance Theater. Karolina has worked with choreographers such as Ohad Naharin, Jacek Przybylowicz, Yossi Berg, Yoshifumi Inao. She has also created three pieces for the Polish Dance Theater Studio and teaches Cunningham Technique. Since 2012 she has been a member of the cie. toula limnaios.